The Plan
The goal is to create a single, unified free wifi network to cover the entire "downtown" area. A "look of success" case would be:
A citizen connects their phone to the wifi at the north end of Main St. (Cumbys), and begins to stream music from an app. The citizen walks southward on Main St. to the Playhouse Theatre; traveling roughly 1/2 mile. The music continues to stream for the length of the trip as the Access Points actively detect and shuffle the citizen seamlessly between connections.
 
Equipment
six (6) Mikrotik Metal52  access points will create a high-elevation 5ghz Backbone network
eight (8) Mikrotik WapAC access points will connect to the Backbone network to create streetlevel 5ghz and 2.4ghz client networks
one (1) Mikrotik CCR1009 Cloud Core Router will provide the Landling/Login system as well as load-balancing across access points, and mesh-routing
one Mikrotik RB1100AHx4 "Dude Edition" monitoring & Tracking router
Metal52
The Mikrotik Metal52  is a carrier-grade WIFI access point. It can operate in either the 5ghz or 2.4ghz spectrum (but not simultaneously). The Metal52s radio transmits with 31db of power. Combined with the 5db antenna the Metal52 has 36db of transmit power, which is the maximum legal limit. The power output of the Metal52 is roughly 10 times that of a standard netgear or linksys home router.
The Metal52 is weather-hardened, Designed to operate from -40C up to 70C. Power and data are supplied via a single ethernet cable that passes through a silicone gasket. The device is equipped with a 2Kv lightning-arrest circuit to prevent any damage during a storm. The device has internal monitoring sensors, and reports its health statistics on a regular interval.
The Metal52  has been tested to sustain the rated 433Mbit/s speed at long distances on the 5ghz spectrum. This makes it ideal to provide the high-speed Backbone network for downtown wifi.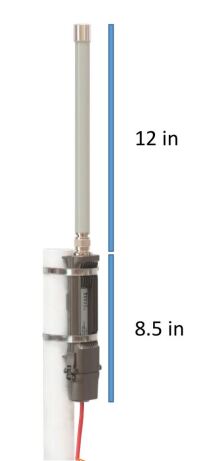 Metal52 Assembly
WapAC
The WapAC is a penta-chain device, meaning it has 5 separate radio systems. 2 chains on the 2.4ghz spectrum and 3 on 5ghz. this allows the device to maintain a solid high-speed connection to the Backbone network; while simultaneously providing wifi networks in the 5ghz and 2.4ghz spectrum for client devices. This is important to support older client devices as well as provide the fastest speeds for newer client devices.
Wireless Specs:
AC speed: AC1600
Antenna gain dBi for 2.4 GHz: 2
Wireless 2.4 GHz standards: 802.11b/g/n
Wi-Fi generation: 5
Wireless 2.4 GHz Max data rate: 300 Mbit/s
Wireless 5 GHz Max data rate: 1300 Mbit/s
Wireless 2.4 GHz number of chains: 2
Wireless 2.4 GHz chip model: QCA9556
Wireless 5 GHz number of chains: 3
Wireless 5 GHz standards: 802.11a/n/ac
Antenna gain dBi for 5 GHz: 2
Wireless 5 GHz chip model: QCA9880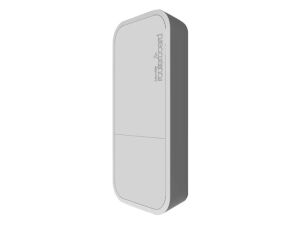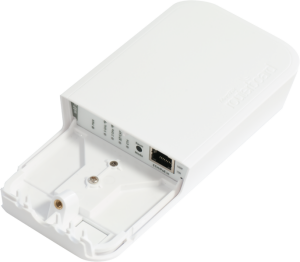 CCR1009

The CCR1009 is designed to act a the controller for a large network. Since our wireless network will cover roughly one square mile; the CCR1009 is a perfect candidate.
The CCR1009 will provide the Login/Landing Page via its "hotspot" feature. The hotspot feature will need to be configured and the decisions will have to be made regarding session limits.
Device Power
Both wAPac and Metal52 are powered via Power-Over-Ethernet 9-48v DC.
The power-injectors that come with the devices use a standard "wall-wart" power supply.
The included "wall-wart" supplies are rated 24v 800ma.
I have successfully run a Metal52 off a 12v SealedLeadAcid battery and also 3x 18650 cells in series.
These devices are pretty versatile when it comes to power.
These Ubiquiti PowerInjectors will be easy to modify in order to install AccessPoints where there are no outlets only power wires:

 
https://store.ui.com/collections/accessories/products/poe-injector-24vdc-24w
Infrastructure
The physical infrastructure of the distribution system will need to solve or workaround several problems:
The airwaves are currently very saturated with (xfinity) wifi.
The topography of the downtown area does NOT lend itself to radio propagation
The backhaul (internet) connection originates from the bank, and will need to reach down to the firestation
The system will actually run on 2 separate but complimentary networks.
5Ghz BackBone Network
5Ghz/2.4Ghz Client Network
Mesh Topology
In order to efficiently move data around all these Access Points; We will utilize a "Mesh" topology. All meshing will occur in the 5ghz Backbone Network.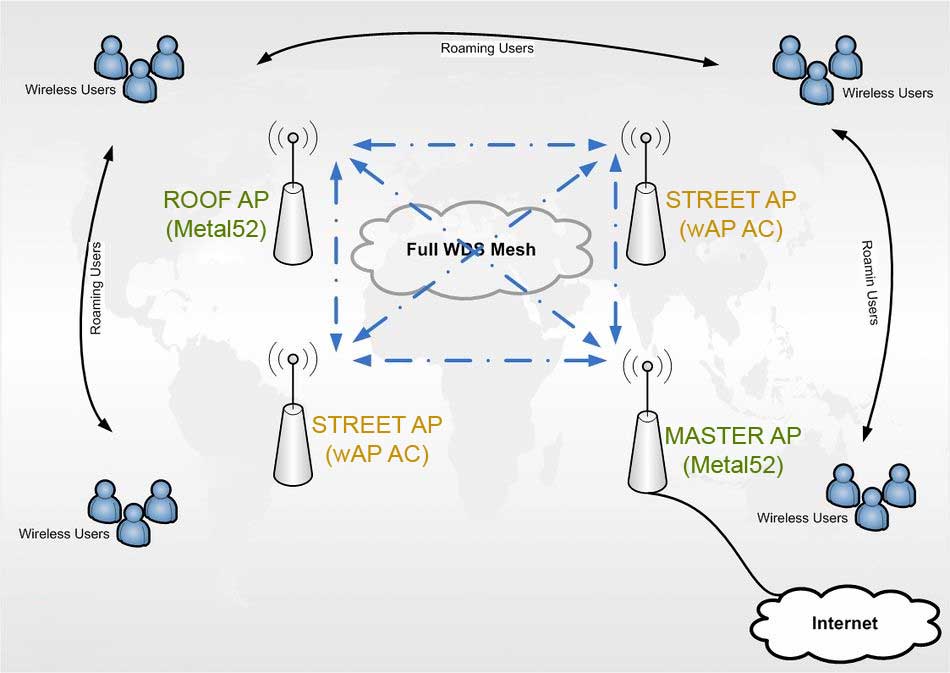 Marketing
Files can be downloaded from the FIle Gallery

Downtown Wifi - Why?
What is Downtown Wi-fi & Why is it needed?
For several years, Internet users in downtown Randolph have lacked the existence of a free unified wi-fi signal to make Internet availability easy for downtown visitors, a service now commonly provided by hundreds of other Vermont towns and villages. Simultaneously, businesses in downtown Randolph have had to maintain their own individual wi-fi networks for themselves and their customers whose costs continue to rise at the whim of regional and national cable companies.

What is being proposed? In response, the Randolph Area Community Development Corporation (RACDC), which owns several buildings and works with nearly all of the businesses in the downtown, is proposing to partner with FirstLight Fiber, local sponsors and the Town to bring a secure, unified wi-fi signal to the downtown area. The benefits of such a system include not only the value-added service to visitors and tourists, but expanded opportunities for businesses to connect with and better understand the needs of their customers and the potential cost savings realized by signing on to this community initiative.
RACDC has already completed much of the preliminary logistical work and technical research, and have commitments from the town and area businesses to create the physical network to saturate the downtown with an uninterrupted signal. Now we are in the final stretch of the project, and need to secure funding to finish the project.
Here's how you can help:
•Sponsor the project through sponsorship opportunities available on the next page
•Offer feedback regarding your own unique digital economy needs
•Share information with other area individuals or businesses
Sponsorship Opportunities

PREMIUM  -  $1,000 Annually, or $100/monthBenefits of PREMIUM sponsorship:
•Prominent placement of logo & weblink on Wi-fi landing page & future community website
•Logo on placards/stickers at area businesses promoting your organization as a sponsor
•Invitation to exceed standard 60 minute limit
•Access to relevant web traffic statistics that can help your business strategy
•Cost savings compared to existing business setup

STEWARD (Large Business) Sponsorship - $600 Annually, or $50/month
•Prominent placement of logo & weblink on Wi-fi landing page & future community website
•Logo on placards/stickers at area businesses promoting your organization as a sponsor
•Invitation to exceed standard 60 minute limit
•Cost savings compared to existing business setup
Wifi Landing/Login Page

The Landing/Login page will be our primary method of direct communication. All clients will see the page the first time they use the wifi, and then again periodically at a specified interval.
This can be thought of as a "commercial break" as during a television show. The page can contain any web content, but should be kept as uncomplicated as possible for small file sizes and fast loading.
Decisions will need to be made regarding usage limits. I need someone to decide the following two numbers:
1. Trial Length: the amount of internet access (in minutes) the user will get after clicking the button on the landing page
2. Trial Reset: how often (in minutes) the user can click the button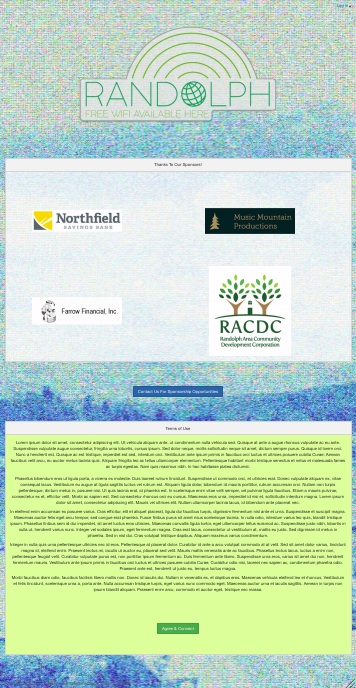 The landing/Login page will need:
A design that can scale between computers, tablets, and phones
Welcome and explanation
Sponsors
Terms of service
"Become a sponsor" Button
"Agree" Button
Usage Statistics?

Window Stickers for the downtown area
There are two draft sticker designs that are currently being finalized by RACDC's designer, and will include stronger RACDC branding:
one to stick in any location downtown
one to stick on windows of sponsors
We anticipate the sponsor sticker may need to be changed in order to stand out more.
Caveats
This system is being designed to cover the OUTDOOR downtown area. Street-level AccessPoints WILL serve downtown businesses. Ground floor storefronts with large windows should receive service without issue.
The 5Ghz "backbone" network WILL be accessible to user devices. 5Ghz is much faster in line-of-site conditions, But does not penetrate walls as well as 2Ghz. 5Ghz will likely only be available to those with an unobstructed view of a Metal52 roof-mounted AccessPoint
The Mesh System is designed to concentrate speed and capacity around the core (Gazebo) downtown area. Edge devices will experience greatly reduced speeds. Current edge-testing reveals 1-3Mbps at the Post Office, and from the top of the hill in front of Clara Martin. Although not ideal; This is usable for most basic internet needs.